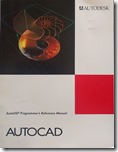 Yesterday Autodesk announced the availability of AutoCAD 2017, code-named "Nautilus". We use consecutive letters in the alphabet for AutoCAD code names, and as 2016 was "Maestro" it's natural that 2017 would begin with an N.
For those of you who're wondering, the code name is indeed a reference to the graphics used for the AutoCAD R12 product. Here's my R12 AutoLISP reference, where you can see the inspiration…
To find out what's new in AutoCAD 2017 from a product perspective, head on over to Heidi Hewett's post on the AutoCAD blog or visit autodesk.com. You can also watch Mike Mizuno's 3-minute video overview:
So what's new for developers?
The big ticket changes in the 2017 release are really on the product side of things – I suspect the 2D and 3D graphics performance improvements are likely to benefit the largest subset of our customers and developers, for instance – so there isn't a great deal to say regarding new APIs in this release. That said, there are changes that are important to talk about, whether they'll require migration effort or help improve developer productivity….