After a pretty late night on Monday – I stayed to help clear up after the evening Swiss Tech Talk – I managed to grab a few hours of sleep before getting up early, yesterday, to head across to Zurich for meetings at ETH.
I'd been invited by Philipp Mueller (from our Education team) and Peter Schlipf (from ADN) to meet with a few different groups at ETH. I was happy to see Jeremy Tammik also came along for the first meeting.
It's that first meeting that I really wanted to talk about, today. It was with Dr Philippe Block, whose research group – the Block Research Group (BRG) – is really pushing the envelope in a number of areas. Here's what they're about:
Research at the BRG focuses on several core areas, including analysis of masonry structures, graphical analysis and design methods, computational form finding and structural design, discrete element assemblies, and fabrication and construction technologies. The central goals of our geometry-based approach are to understand the real demands of complex structural design and engineering problems and to develop new algorithms and efficient, accessible tools for structurally informed design.
It was really interesting to hear Dr Block talk about his group's work. On the one hand they're pushing the envelope technologically and on the other they're taking inspiration from techniques understood by the master builders of old.
Here's a quick picture of Peter, Philipp and Jeremy talking to Dr Block in the presence of a couple of rather nice Kuka robots.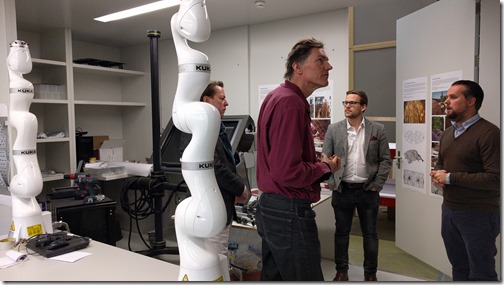 Read more