2 years ago we released a new tool that hits on 2 key technology trends that impact our industry: Data accessibility and Cloud. The Autodesk Civil Engineering Data Translator began shipping as an extension to AutoCAD Civil 3D 2015 and then as a component in AutoCAD Civil 3D 2016 Productivity Pack 1.
Beyond addressing an acute customer production requirement, it also provides an interested case study on how Cloud processing and on-demand access to disparate project data can be accepted into our daily work environments.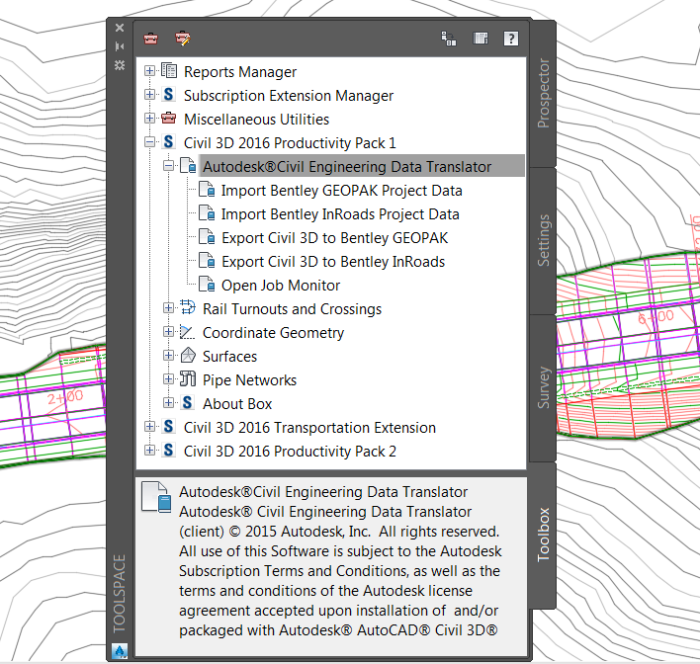 Point 1 – I need project data to be accessible at any time without worrying about the application that was used to originally author it…
The idea was to provide a simple process for converting core civil engineering data (e.g., surfaces, points, alignments, profiles) between production civil engineering software systems. For example, I may have historical project data created in another system that I now need to use in AutoCAD Civil 3D. Or I'm using Civil 3D as my production environment but I need to deliver project data to someone else in the process who is using Bentley Inroads or GEOPAK. The key point is that groups are now able to access the data that they need when they need it without needing to purchase and learn additional software applications.
Point 2 – The civil engineering community will, rather HAS embraced a cloud-based service in their production workflow…
As we looked at approaches for solving this requirement, it became clear that the best solution would be to provide a cloud service that we host and maintain. We often hear that "Cloud" adoption is a challenge for our civil engineering customers, but it's actually been a non-issue in the adoption of this service. This acceptance can be attributed to people seeing clear value in the service and the product team providing ample support and security on the data that is uploaded to the service. In this case, the ability for us to process disparate project data in the cloud enables us to fulfill the on-demand data access goal set in Point 1.
Results – We are seeing consistent growth in the use of the service…
We're able to track some basic metrics about the usage of this service and are seeing a consistent increase in the number of people processing translation jobs. Here are two metrics for the month of February 2016 that are somewhat typical in the scale and type of translations that are being completed:
646 completed "jobs"
83% of the submitted jobs were to import Bentley Inroads project data into AutoCAD Civil 3D
I'd love to hear more about how people are using this tool and also what your experiences have been (both positive and negative). If you're not currently using this service, check it out. It'll be in your AutoCAD Civil 3D Toolbox after installing AutoCAD Civil 3D 2016 Productivity Pack 1. We're also looking at expanding the tool to support other types of data and also to span more products – for example adding Autodesk InfraWorks 360 into workflow to enable interoperability with Bentley Inroads and GEOPAK and other legacy civil engineering products.
Keep in touch!
Dave Simeone
Senior Product Manager – AutoCAD Civil 3D
The post Cloud and Data Access – The results are in… appeared first on BIM on the Rocks.