As mentioned a few weeks ago, over the Easter school break I headed across with my family to Cuba. Cuba's really an interesting country. I could probably write weeks of posts about it, but I'll try to keep it brief and move onto other topics.
We visited two parts of Cuba during our fortnight there: Havana, the capital, and Cayo Largo del Sur, an island off the south coast.
While in Havana we stayed at a "casa particular" in the old part of the city. Old Havana is as run down as the images you've probably seen of it, even if you regularly see renovations in progress as outside investment enters the country.
Here's a panorama I took from the top of the place where we stayed:

The view in the other direction was a bit nicer, admittedly.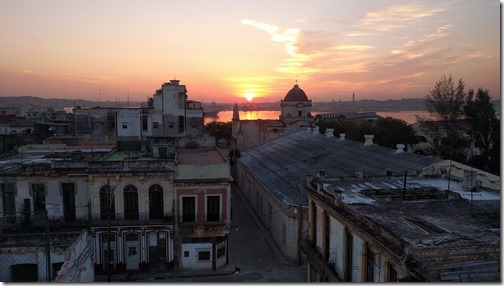 I'm really glad we stayed in Old Havana, rather than in a more upscale hotel elsewhere: we were there for the Easter weekend, which meant many local children were playing in the street and my daughter, in particular, made friends immediately. And we certainly experienced more of life in Havana than we would otherwise have…