Listening to Bill's BIM Thoughts podcast with Carla Edwards and Paul Aubin (Session 29), Carla reminded me of a parameter associated with levels I wrote about in 2013 but it was buried within a post of a different title. So I decided to clip it out of that post and give it some air again.
Levels have a parameter called Story Above; and a related parameter called Building Story.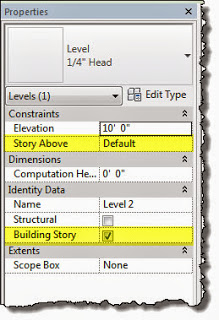 This is the current description for the Story Above parameter from Autodesk.
"From Revit Help"
Used in conjunction with the Building Story parameter when exporting to IFC with the export option Split walls and columns by story, this parameter indicates the next building story for the level.
By default, Story Above is the next highest level for which Building Story is enabled. To access a list of all building stories above the current one, click in the field. The Story Above does not need to be the next higher level or building story. If the selected level is deleted later or if Building Story is disabled, any levels with this level as their Story Above will revert to default behavior…