When we choose to assign a View Template (VT) to a View, that makes the template the view's boss. It takes over control of each setting we choose to make it enforce. In this image notice the parameters that are gray, not editable?
Those are being managed by the View Template. I've got to edit the VT to change one of those parameters or use Enable Temporary View Properties to override them briefly.
I noticed yesterday that the Orientation parameter does not behave like other View Properties even when a VT thinks it is in charge of it. This is the VT's dialog showing it is currently assigned to Project North; we can choose either Project North or True North. The check in the Include column (on the right side) indicates we want the VT to take over.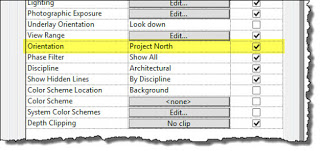 Therefore I find it counter intuitive that we can still interact with and change the Orientation parameter in the Properties Palette even…