Marcello, Julien, Adam and me are going to give you a Dynamo show the world has never seen before. At 09:00 on Friday October 21 in Porto the four of us host a Dynamo Lab at Revit Technology Conference together, and you should consider being there.
Marcello Sgambelluri hardly requires any introduction if you have ever been attending a conference with any Revit in it the past decade. The american with the curly hair constantly keeps hammering top rated classes around the world, but to the best of my knowledge this is the first time he ever sets foot on European soil. I am plainly super exited to have him coming here, and that we are doing a class together.
Julien Benoit from Nantes has been my very good friend ever since we met at the first ever RTC held in Europe, in Delft back in 2013. Julien has been teaching Revit and Dynamo to French engineers and architects for a number of years, and the work that he and his colleagues are doing is simply amazing. We did a joint lab together with Andreas Dieckmann at RTC last year, and it was a no brainer to set up a similar session again.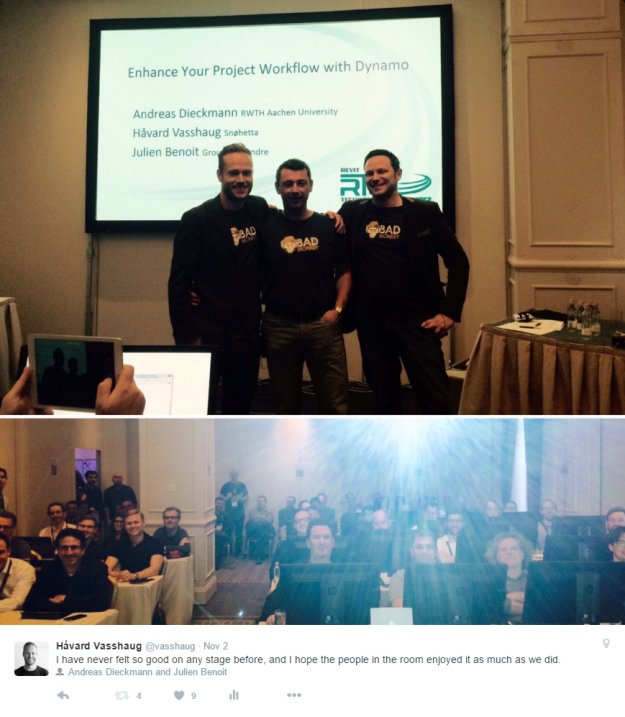 Put Adam Sheather next to almost any normal building industry professional, and he will seem like a God. Literally. Put him next to me, and I will look like the biggest retard who ever put on two shoes. I call him The Prodigy. The man writes code like he never did anything else, but there is so much more to the bearded Australian. The creator of Dynaworks has great visions and thoughts about the future of building design and construction, has a great sense of humor and currently holds the world record for longest RTC lab – 300 minutes, all alone and hung over in Melbourne in 2014. Like Marcello, I don't think Adam has shared many skills in Europe before, and it is fantastic that he is making the long trip from Brisbane to Porto to be a Bad Monkey on stage.
The four of us have got something special lined up for the hopefully many lucky souls who sign up for Session 2.1 Bad Monkey Stream: Lean Dynamo. We will each run one half session focusing on teaching participant different ways of creating their own scripts for various design problems. Be there! You will be a much better person after.