I mentioned in yesterday's post that Cyrille and I were heading across to Lausanne to host an AR Meetup. It's our third Meetup for this particular group: the first was in the Autodesk office in Neuchatel, while the second and third have been held at the excellent Studio Banana. This one was really fun: between Cyrille and I we had three HoloLens devices for people to try, which made for a really interesting event.
Cyrille kicked off proceedings with a discussion of AR and VR in general, and where things stand right now.
Key Kawamura – from Studio Banana – talked about their BATBAND project. BATBAND is a bone induction headset that was successfully funded on Kickstarter and will be shipping very soon. It was fun to see how the project was initiated – and has evolved – and how it fits nicely within the AR theme: bone induction devices allow you to add an audible (rather than visual) overlay to reality, as they don't block normal sound from reaching your ears.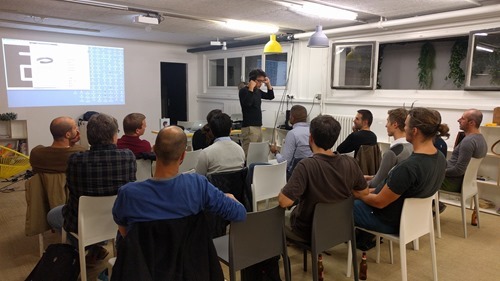 Both…