It's one thing to encourage creative design in architecture, engineering and construction (AEC) but it's quite another to enable it.
Autodesk is not shrinking from the challenge. With company initiatives such as the Artists in Residence program and internship programs using Fusion 360 at its home base at Pier 9, it was only a matter of time until we saw something aimed toward AEC.
The BUILD Space. (Image courtesy of Autodesk.)
That is exactly what's happened with the Building, Innovation, Learning and Design (BUILD) Space in Boston. The 34,000-sq-ft facility, which officially opened its doors on Oct. 5, 2016, aims to offer a highly equipped space for AEC teams to test out materials before they hit the construction site.
Enabling AEC Design
Modern construction sites have no shortage of material options. Steel, wood, stone, concrete, ceramics, glass and carbon fiber are some of the popular ones, which is why they'll be some of the headliners at the BUILD Space.
The industrial workshop and innovation studio will enable teams to test out new practices using these materials in fields such as digital fabrication, design robotics and industrialized construction in the hopes of improving how things are made in the built environment.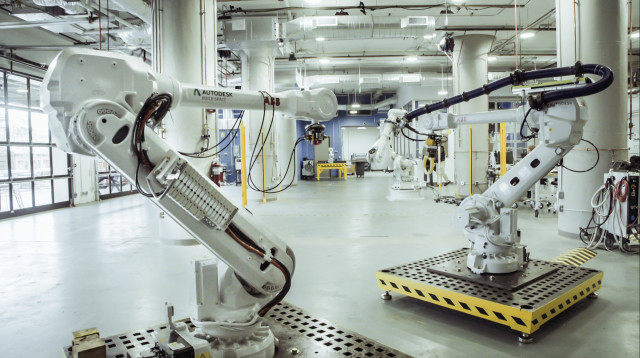 The main floor of the BUILD Space, along with some of its robotic inhabitants. (Image courtesy of Autodesk.)
The teams will have access to more than 60 pieces of large-scale industrial equipment, including: