Madeline Gannon's exhibit – featuring Mimus, the industrial robot that reacts to (and even interacts with) visitors – opens tomorrow (November 24th, 2016) at the Design Museum in London. I mentioned Madeline's project in a recent post as I'd had the chance to interact with it at the Autodesk Boston BUILD space. There's also an interesting article discussing the project that's just been posted over on In the Fold.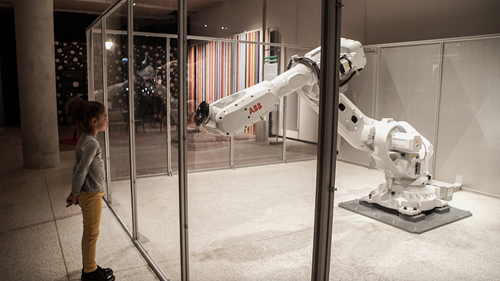 Here's a video describing the motivation behind the project in more depth:
If you're interested in how Mimus looks when not surrounded by glass, here's the video I recorded when I met it in Boston:
As I've said before, Madeline is performing really important research. I believe that making robots more approachable – whether ascribing them animal- or human-like traits and behaviours – is going to be an increasingly important trend as we collaborate more frequently with them.
Photo courtesy of Madeline Gannon and Autodesk.