In finalising my preparations for the BiLT Europe conference coming up in Denmark shortly, I opened up some of my old projects with Enscape3d active and saved a few screenshots. It's amazing what you can do in just half an hour with almost no editing at all, just selecting viewpoints and sliding the shadow angle around to different times of day.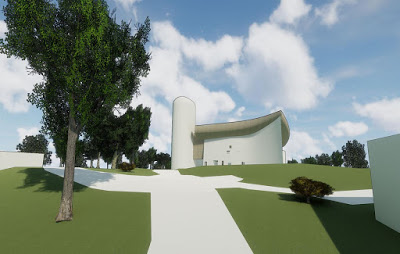 There are other controls of course and I made some use of the white mode and the black outlines slider. Depth of field has some potential but I couldn't get it to do anything particularly interesting in this case.
The model is le Corbusier's famous chapel at the top of a hill of course. The roof is a hollow ferro-cement shell, inspired by aircraft wing construction techniques. There are blog posts from several years ago that go into these issues in a bit more depth, but I have never really got around to taking this work to a reasonable conclusion.
I do have a plan to follow up my Project Soane website with something more general which…