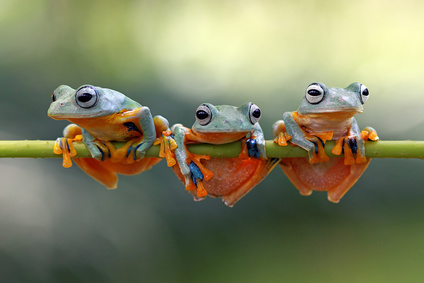 "Frogs in every shape and size that stare with nictitating eyes.
 Despite the hype, the fact remains we're drowning in amphibians.
 It's not just pouring cats or dogs, it's raining frogs.
 It's plain to see we've reached a state where one cannot exaggerate.
 It's raining frogs."
— "Frogs," Todd Rundgren.
A "Frog" is a Flexible Response to Ongoing Growth, a way for architects, builders, and owners to create great buildings through a standardized set of building components, commonly known as a "kit of parts." The first Frogs were designed by product designers, architects, and engineers in San Francisco to create bright, beautiful school environments to address the estimated 90,000 portable structures within the California school system. Since then, Project Frog has developed the process of designing, delivering, and assembling Frogs into a science, and associated building products have been deployed as community centers, corporate retreats, retail environments, data centers,…