This year the BILT Asia conference is taking place in Singapore at the Marina Bay Sands on April 5th – 7th, 2018.
I have never been to Singapore and wasn't sure if I would submit any abstracts for the 2018 BILT Asia event going on there. However, all of that changed last May when I attended a local user group (cBIMc) meeting here in Calgary. That night Phil Read was presenting about Enscape, we had a few minutes to chat and he told me how much fun he had just a few weeks before when he was in Singapore for BILT Asia 2017. What can I say Phil is a good salesman, I was hooked!
So when the request for abstracts opened last Septemeber I send in my submissions and waited. Fast forward to mid-December and I was lucky enough to get an email telling me that one of my abstracts had been selected!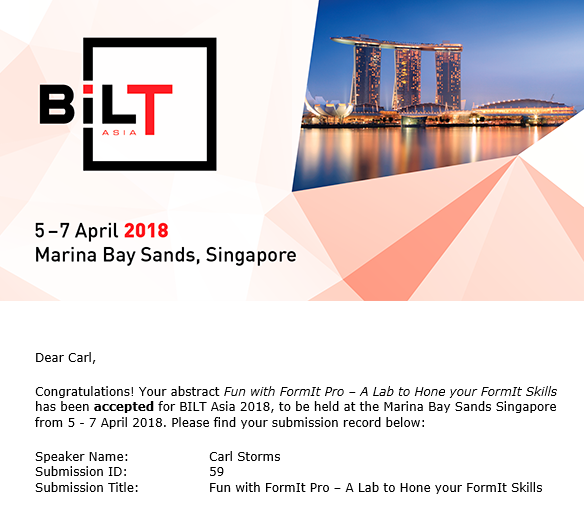 My session info is below:
Session: Fun with FormIt Pro – A Lab to Hone Your FormIt Skills
This Lab session will focus on some of the newer features of FormIt Pro, as well as Tips and…