Too long between posts, and especially behind on reporting my Bank of England
work. We've been plugging away steadily, but even with a three day weekend, time seems to run out before I can document the progress.
Waiting Room Court was due for an upgrade, including the loggia along the northern side. Soane had a strong liking for processions of tall narrow arches. We have come across this in his church at Walworth as well as the central corridor of the Board of Trade. I think the loggia is one of his best variations on this theme. The drama is heightened by the way it proceeds from the relative darkness of the Doric Portico, opens up into the courtyard, then closes up again.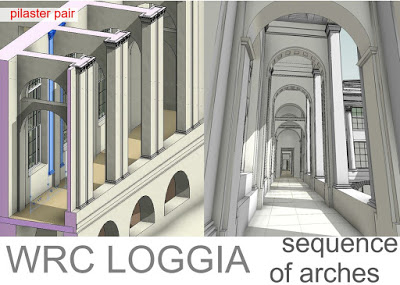 In preparing this post I came to another of those "realisation moments" that make this work so addictive to me. The paired, shallow, flat columns of the distinctive north façade of Waiting Room Court are not just one of Soane's mannerisms. They are their because of his wish to combine an "enfilade" of…