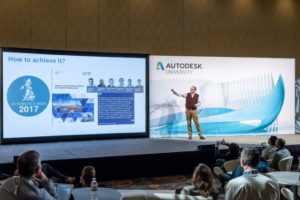 Call for Proposals is now officially open for AU Las Vegas 2018. That includes AU itself, as well as Forge DevCon and the preconferences. Time to tell us what you have to share with the AU community this year:
A new process or workflow you've honed to solve a common professional challenge?
An innovative approach to business management and growth that uses evolving technologies?
A hard lesson learned? (Don't be afraid of the failures.)
Help for those who are new to a particular software, technology, or industry?
Insight for seasoned professionals becoming thought leaders?
Let us know—you have until June 11 to submit your proposal.
Download the AU 2018 CFP guide for details on everything from class formats to selection criteria and this year's priority tracks Get your questions answered and make use of a handy worksheet to prepare your proposal.
AU 2018 Priority Tracks
Our priority tracks are new this year, giving you both guidance and inspiration on the topics that matter…