Revit coordinate system is very confusing. Even after 7 years of Revit experience, I still needed hours of research, investigation and experiments to build this guide.
This post covers a lot of ground. You will learn about the mysterious, super secret Revit Internal Origin. You will learn the difference between a Survey Point and a Project Base Point. You will learn how to properly use the True North and the Project North. Good luck.
1- UNDERSTAND THE DIFFERENCE BETWEEN ALL 3 COORDINATE ORIGIN POINTS
There is 3 different origin points in a Revit project: the Project Base Point, the Survey Point and the secret Internal Origin.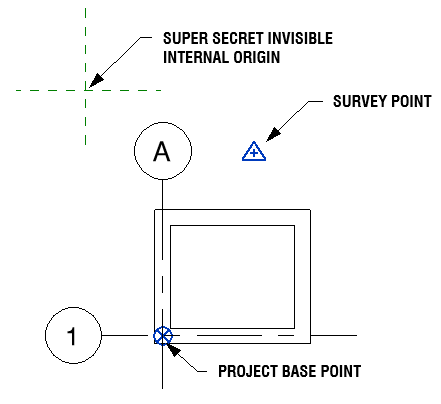 PROJECT BASE POINT: This point is used almost exclusively for internal purpose. It is used to place dimensions relatively to the building. It is…