If you've been following the 3D printing industry for at least the past four years, you may remember the 3D Print Canal House. Launched by architecture firm DUS Architects, this Dutch project was meant to see the construction of the first 3D-printed house. What you may be less familiar with is Aectual, an additive construction company spun out of DUS to pursue 3D printing-specific projects.
Flooring made by Aectual, 3D printed with a bioplastic and filled with a terrazzo of recycled granite or marble. (Image courtesy of Aectual.)
While Aectual engages in some practices similar to others in the additive construction space, there are some standout features of the company, aside from its unique team. Not only does the firm use plastic as its printing material, but Aectual also goes beyond 3D printing walls and 3D prints floors, as well.
To learn more about the firm, we interviewed Aectual's co-founder and chief commercial officer, Hedwig Heinsman.
Founding Aectual
In 2014, the 3D Print Canal House first broke ground in Amsterdam, where the team worked to create what was billed at the time as the "world's first 3D-printed house." Using a large-scale fused filament fabrication 3D printer with a build volume of 2m x 2m x 3.5m, the firm began 3D printing test components before moving on to architectural elements.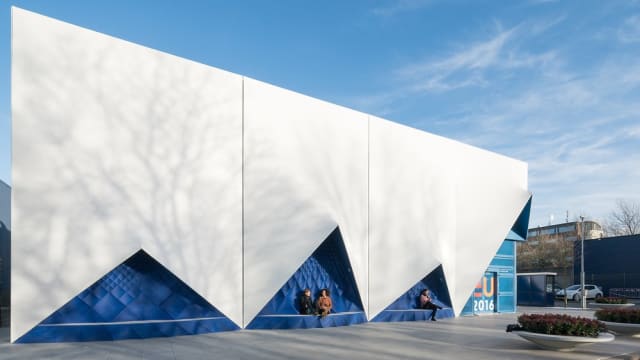 3D-printed façade created by DUS Architects for the temporary Europe Building for the EU. (Image courtesy of DUS Architects.)
While that…