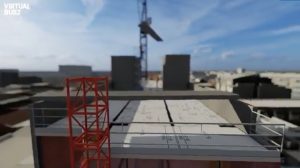 One of the many BIM Services we provide at Virtual Built Technology is Construction Animations and Visualisations.
Check out our latest Demo Reel!
Let us know what you think… leave a comment or get in touch info@virtualbuilt.com.au
The Technical Stuff
Some of you may be interested in how we go about producing some of this content. I'll keep it short and sweet, but you can see some of the programs we use below.
Models:
The actual model content always comes from a variety of different sources, but primarily we produce most of our modelling content in Revit. This is often where we start, where we federate models and develop up a scene.
However, we're also use prone to using Sketchup, 3DS Max, Meshlab, Reality Capture (Drone captures), Lumion (for content)
Animation and Visualisation:
When we get into animating our scene, we again play with a few different tools. Navisworks is ok for relatively complex scenes, and if you persist with the rather clunky…