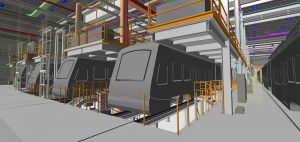 What technology stack should you use when managing and collaborating on a significant and complicated design-build infrastructure project?
Stantec recently shared their workflow on their Ideas website – and it has Revizto right in the middle of it.
Here are a few quotes to get you started:
"The team decided to implement Revizto early in the design phase. It's an easy-to-use, secure, file-neutral, cloud-based, model-review solution. Model files were published to Revizto, unattended, every night. Each day, the design-build team and Sound Transit could visualize the current design in all areas of the facility. We saw a vast improvement in collaboration and engagement because the model was accessible to anyone, from anywhere, at any time.
…
Revizto's issue tracker became a one-stop shop for model-issue and clash management. Typically, a team might use Revitzo to coordinate a single building model. But our team took that a step further by using it for the entire…