A new version of Project Refinery is now available for your generative pleasure via the Autodesk Feedback community. It's a pretty big release – being the first since the launch of the public beta at AU 2018 – and has some very interesting features.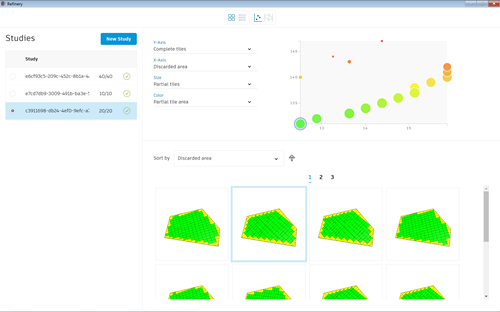 New Features
Refinery installer
New sample files
10 times faster
Less computing resources used
Better initial geometry views
Smaller geometry storage on disk
Filtering of designs in parallel coordinates
Sorting for thumbnail views and table
Better progress indicators
Pause and resume for studies
Refinery Server shutdown occurs automatically on exiting Dynamo
Bug Fixes
Chinese input names now work correctly
Fixed error "…does not seem to support WebGL"
Now a little commentary…
I'm happy to see the 3D geometry now being compressed to take up much less space on your hard-drive, as well as the general speed improvements and better initial geometry views.
It's convenient having an installer, but this currently looks for Dynamo 2.0.2…