This post continues the story of our trip to Scotland. As the last week as purely vacation, feel free to skip this post if you're only interested in my work-related content. (And if you like the travelog stuff, feel free to check out these posts from our big trip of a couple of years ago.)
While on Skye we stayed in an apartment near Sconser. Skye is actually a lot bigger than you expect – with a lot of single-lane roads whith passing places – so it was nice to be staying relatively close to the ways onto the island (whether by bridge or ferry).
Here's a snap I took on our second morning on Skye, showing the nearby view.

For our only full day on Skye we had a few things we wanted to see. My main wish was to visit the Talisker distillery, while we also wanted to visit Dunvegan Castle and the lighthouse at Neist Point.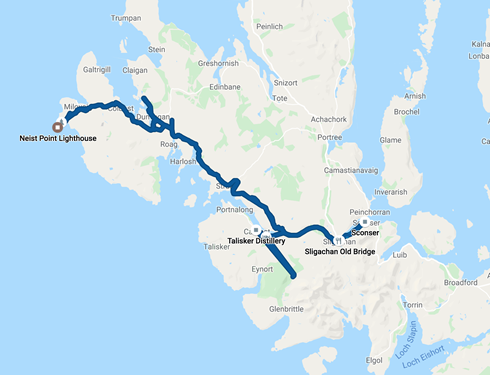 As we left the apartment in Sconser it was drizzling slightly (on and off). But this did mean some nice, moody views of the bridge at Sligachan:
By the time we…