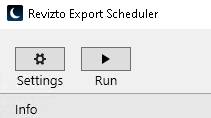 The Revizto Export Scheduler does a great job at automating export tasks from Revit and Navisworks direct into Revizto.
But what if you want to decommission a machine that is doing repetitive export tasks? And move those export tasks to another machine?
Overview
You just need to copy the .db files from the Source Machine to the Target Machine.
Note: The Target Machine will need to have an almost identical environment as the Source, especially in terms of file locations and BIM360 cache folder locations.
Here is how you might do it…
Step by step
On The Source Machine (the one with current Revizto Scheduler jobs)
Confirm that a given scheduled task runs successfully by using the Run button

Revizto Scheduled Tasks are stored inside the Revizto Working Folder, .db file. So we need to determine which folder to work in…
To determine which Revizto Project is being scheduled, look at the name to the right of the -> in the list. In the case below, the Revizto Project Name is…