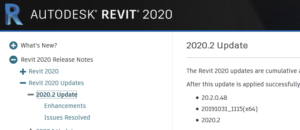 As per notes below, Dynamo Revit 2.3 will be deployed with this update..
Release Notes: at this link, Enhancements here, Issues Resolved here.
Download: at
Filename: Autodesk_Revit_2020_2.exe
Enhancements:
Dynamo for Revit
Integrated Dynamo Revit 2.3 to Revit 2020.2.
A new Dynamo node called 'Selection – All Elements of Category in View', which allows for selection of all elements of a designated category in a view, is available.
A new Dynamo node called 'Element-Delete', which allows for deleting elements through a Dynamo script, is available.
File Corruption
Enhanced data storage implementation to prevent missing element file corruption.
MEP Analytical Systems
Added support for specifying an absorptance value for architectural element types and passing it to the Systems Analysis feature.
MEP Electrical Panel Schedule
Improved the behavior to show circuit and panel properties directly in a panel schedule view.