We still have no access to any point cloud data for the cathedral.
Fortunately we have the TruView site that was placed into the public domain by Leica shortly after the fire.
Gradually we have figured out how to adjust the "Z" coordinates of picked points to align with our Revit model.
It's a little bit tedious, but we can record these values on screenshots and on section/elevation views.
It seemed prudent to create a lightweight file with a copy of the grid and place scaled jpegs in section views,
fade the image with a semi-transparent masking region, and draft over a revised setting out for the major elements.
Within this study file, we have set the shared coordinate system to read out the TruView Z coordinates.
The TruView zero is basically a tripod height above the triforium gallery floor.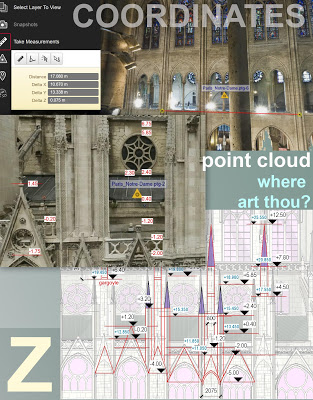 Based on this analysis we have been able to adjust various elements, dropping the sill heights of the clerestory windows running around the chancel at high level. (it…