This will be my (last post of 2019) first post of 2020
An image of me on stage at Autodesk University Middle East. That was a great event. Those who have shown an interest in taking part in Project Notre Dame, please be patient, we haven't forgotten you.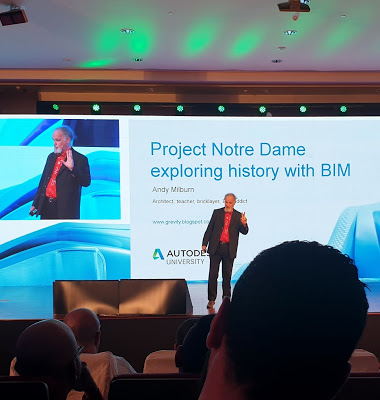 I uploaded my presentation so that should be coming up on the Autodesk site before too long. In the meantime you can download a precis of my talk at the link below.
https://drive.google.com/file/d/1Olsu-dThzWzQMWMCQKL_u4oVX6Vk8_ez/view?usp=sharing
And here's the video
https://www.youtube.com/watch?v=teKDOurIb6U
Over xmas, I put a bit of work in on the chancel. The raised floors and steps were roughed out very rapidly for AU Las Vegas, so I went back and adjusted levels. Also looked a bit more carefully at where the various sculptural elements are placed. We need a couple of kneeling kings and a Pieta (mesh objects) to make this more convincing, but it's improving steadily. Ryan is taking a look at the choir…