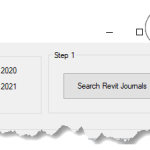 Alrighty, calm down! I know C4R is the old and BIM360 is what we mostly work with now, but it was a long time ago when I created this handy little tool.. and "BIM360 Cache Cleaner" doesn't quite have the same ring to it.
You might remember a post I made a while back about how to manually clean out your C4R (now BIM360) cache. It's a rare occurrence but on sometimes you end up with corrupt models in your local cache and you need to blow them away.
But explaining to the average user how to clear these models by searching journals and digging through their appdata folder, not to mention don't forget your PacCache folder.. man.. it's hard work!
As I've been getting involved in big projects again, I've already had two instances where I have had corrupted local files. This could be caused by all sorts of things, but I find usually the culprits are
Dropped internet connection during open or sync
Project partners running different patch versions of Revit (i.e. 2020.1 and…