Next week is the annual Symposium on Simulation for Architecture and Urban Design (SimAUD, pronounced Sim-Odd). This conference was started a decade ago by my former manager Azam Khan, along with Gabriel Wainer and Ramtin Attar. I've only had the pleasure of attending one SimAUD event – the 2018 edition was held in the Netherlands at TUDelft – but I was hoping/planning to attend this year's in Vienna: a paper submitted by Rhys Goldstein – with Simon Breslav , myself and Azam as co-presenters – was accepted for the conference.
Here's a quick photo from a dinner we had in Delft (originally posted in this previous post from this blog):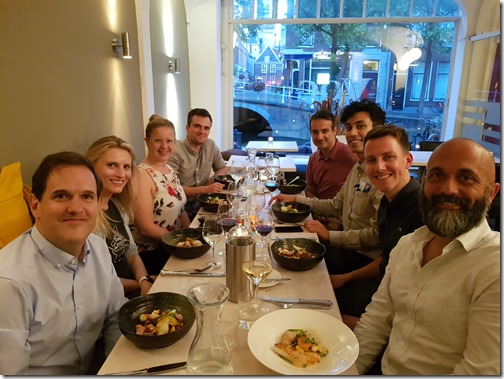 (Left to right: Gabriel Wainer, Ruslana Steininger, Hali Larsen, Danil Nagy, Ramtin Attar, Lorenzo Villaggi, Jelmer Frank Wijnia and myself.)
For better or worse SimAUD 2020 has (of course) been moved to a virtual conference.

On the one hand, it's a bit of a shame as the SimAUDers I've met have all been anything but AUD (haha):…