As you know, there are plenty of good solutions to make custom patterns for Autocad.
But, if you are really into Revit, there are not many choices. In my case, I've used a solution for Autocad, and used *.pat files from it. I can't say it's very inconvenient, but can't say it great either.
I know there are some pattern creating apps for Revit.
They can create pattern in Revit directly. And some of them have a bit complicated options.
But I haven't seen the functions below from them.
1. Non square pattern.
2. Patterns with curves.
3. Honeycomb(hexagonal) pattern.
4. Custom pattern size. (I know pattern can be scaled when be used, but..)
So…. I developed a pattern maker named DynaPAT using Dynamo.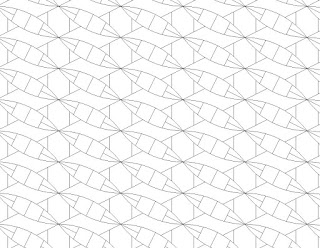 a Sample created by DynaPAT
DynaPAT can do below.
Non square pattern (any rectangles available)
Patterns with curves
Honeycomb pattern (because of no.1)
Custom pattern size (What you draw is what you get.
No installation.. It's Dynamo!!
No "for 2017" or "for 2021" thing… It's Dynamo!!! I'm sure it will…