Smart Options display. (Image courtesy of Vectorworks.)
This September Vectorworks released its annual design and building information modeling (BIM) software solution Vectorworks 2021 for the architecture, engineering and construction (AEC); landscape architecture; and entertainment industries.
The Maryland-based company Vectorworks has been around since 1985 and has become somewhat of a favorite for architects working on Macs. It was acquired by AEC solutions provider Nemetschek Group in 2000.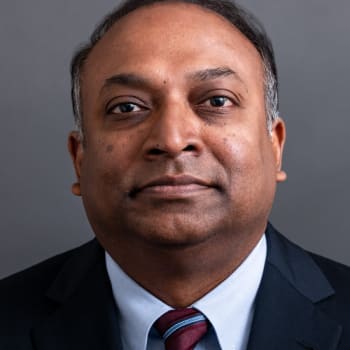 Biplab Sarkar, Vectorworks CEO. (Image courtesy of Vectorworks.)
We recently caught up with Biplab Sarkar, CEO of Vectorworks, to get an update about the company, industry trends … and Vectorworks 2021.
Sarkar has been in software development since the '80s and joined Vectorworks in 2000, serving as the CEO since 2016. 
"The DNA of Vectorworks is to keep it simple," said Sarkar. That is the basis of this year's theme of "simplicity to design the complex."
Sarkar said the company focused on how to make Vectorworks 2021 more practical and easier to use, enabling users to perform complex tasks—all while keeping the workflow simple. 
For starters, users will notice a more modern user interface. Sarkar said the interface has been simplified to make it easier to locate things. For instance, with the Quick Search feature, users can quickly find and activate a tool or menu command by simply typing what they need. Vectorworks will also offer suggestions…