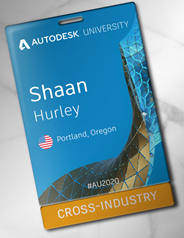 From November 17–20, more than 100,000 innovators around the world fired up their laptops to participate in Autodesk's first digital conference experience: Autodesk University 2020.
Thank you for all your participation in this challenging year. Over 100,000 registered online versus all of us normally being stuck in Las Vegas a week every year dealing with the dry air making chapped lips, hoarse voices, and the never-ending sound of slot machines or the many escalators.
The online Autodesk University 2020 was a great success from my perspective with the great content, scaled to many more to attend, and free. It is amazing all of the world class sessions and training for free. The classes are online now at https://www.autodesk.com/autodesk-university/conference/home if you want to still benefit. I really missed the in person conversation bumping into friends and colleges and meeting new friends and I am looking forward to a future in person event when it is safe to do so.
While…