This week's episode is longer than I expected, but I found I kept going on to the next game as the one before left me wanting more.
I would have loved to have played the first game – Who Dares Wins II – for longer, but it crashed almost straightaway. One to come back to, at some point. (I mentioned its similarity to Commando: according to Wikipedia, the first Who Dares Wins was "given an injunction" for basically being a copy of Commando. Funny!) Here's its review from Issue 8 of Zzap!64 magazine: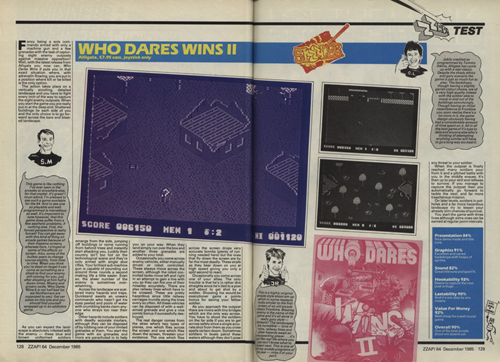 The next game, Fighting Warrior, was hysterical, but mainly because I didn't realise demo mode was engaged for most of my efforts. The fighting was somewhat bizarre, too.
Eskimo Games was frankly disappointing, but it's a bit harsh to judge games like this on a single play.
Tough Guys was obviously a really bad fighting game, something I could tell even from a single play.
The final game was Basket Master: by this stage I was really hoping for a basket-weaving "how…