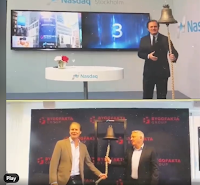 Today (15th October) marks the first day of trading for our parent Byggfakta Group on the Nasdaq Stockholm.
Ref: BFG
Press release: First day of trading
This marks another huge step on the NBS journey which has been quite a ride. Reflecting on some key dates…
1973
NBS (The National Building Specification) was first published.
The NBS presents architects, structural engineers and quantity surveyors with a unique opportunity to re-appraise and develop their specification practice. The benefits will come to them and to the industry as a whole in the form of better and more efficient building.
Chairman of NBS Ltd, Sir Robert Matthew
More info: https://constructioncode.blogspot.com/2010/02/1973.html
September 2002
The team that wrote the software for NBS (a small research centre that I was part of) was brought into the NBS family (RIBA Enterpries). We all moved down from Newcastle University and were then part of the wider company.
More info: