In Europe many of us have been enjoying a four-day weekend for Easter. As my birthday this year fell on Maundy Thursday, I decided to extend it to five (fantastic) days.
We'd previously planned to meet up with some old friends from Singapore who are visiting Italy, but we a) wanted to stay around to support our eldest son who's busy revising for his baccalauréat exams and b) didn't want to have to worry about Covid-related restrictions that are still in place in Italy. So we ended up staying in Switzerland.
During the day of my birthday itself, we headed as a family across to Lausanne: assuming he passes his exams, our son is going to EPFL to study Life Sciences Engineering next year, and we thought we'd scout out a few accommodation options.
First, though, we had to have lunch. Our son took us to his favourite ramen restaurant for my birthday lunch. It didn't disappoint.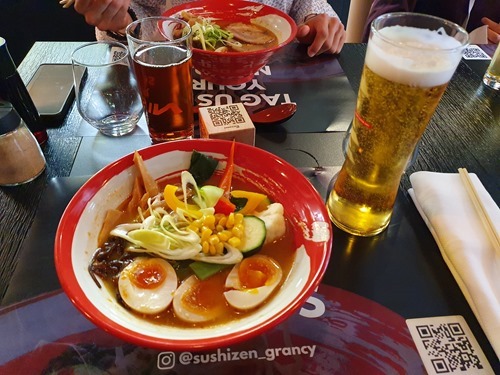 After lunch we wandered around the city centre, checking out the EJMA (l'Ecole de Jazz et Musique…