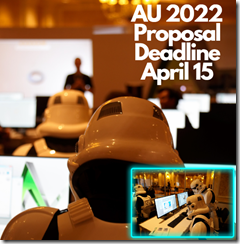 We all want to go to Autodesk University (New Orleans in September this year), but for many, that usually begins with submitting our proposals for sessions as a speaker to get a complimentary pass and possibly an honorarium for multiple accepted session as primary speaker.
AU 2022
September 27-29
Call for Proposals
March 15 – April 15
Submit your proposal via the Call for Proposals page.
Proposal Requirements Guide Requirements and recommendations for submitting a winning proposal in 2022 (pdf)
What class formats will be offered this year?
• Industry Talk – Lecture format for sharing thought leadership, industry insights, and new perspectives on innovation. Speakers are not expected to provide in-depth product demonstrations or workflows.
• Case Study – A presentation of a specific project from inception through completion, spotlighting the challenges you faced, the solutions you chose, and outcomes. Share what you achieved, how you made decisions, and why it…