A few events have happened over the last few weeks that I would have loved to have attended, had I had the energy (and been in better shape).
The first was the grand opening of the Autodesk Gallery on May 11th. I received an invite – because of my participation in the NEST project – but as I was planning on actually being at the NEST building that day I declined. And I ended up being home with Covid, so there's that.
The gallery was opened by SF Mayor London Breed. Here's a snap of Andrew Anagnost showing the NEST exhibit to Mayor Breed.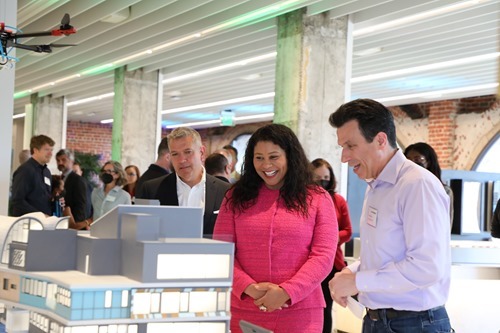 Here's a nice video summary of the event:
The other event was Digital Construction Week 2022 at the ExCeL in London. The 2m Dar Smart Bridge was once again on display – the first time since BIM World Paris – and I had hoped to get across to help out, but ended up (actually quite wisely) deciding to head directly home after the Smarter Bridges Conference rather than making the detour via London.
That said, I did end up on a Zoom call from…