I'm in London for a few days this week for some internal meetings and a customer visit. While visiting the Soho office I checked in with my Autodesk Research colleague Allin Groom about a project he and Matt Oosthuizen have undertaken to help reduce the impact of waste in the office.
The inspiration for the project was an all too common problem: a lot of waste generated by employees – many of whom buy takeaway lunches at local shops and restaurants – comes in the form of polyethylene terephthalate (PET) containers. While this material is nominally recyclable, Allin and Matt were motivated to see how PET might be repurposed locally in the office as a material for 3D printing.
Allin gave George – another colleague visiting the office – and I an informal tour of the office's makerspace along with an introduction to this fascinating project.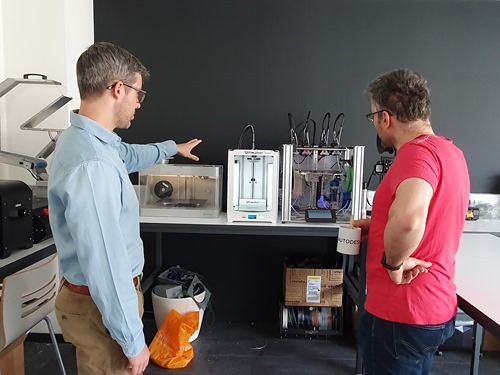 One of the early stages is to clean the bottles – removing caps, labels and glue – ready for shredding. It's worth noting that a…