Wednesday ,October 27, 2022, 10am PDT
Fusion 360 Ask Me Anything: Electronics Design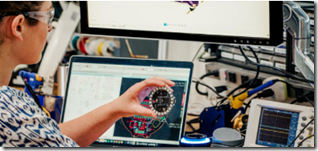 Join Richard Hammerl, a Fusion 360 Community Specialist in Electronics, and Jorge Garcia a Fusion 360 Technical Specialist, Electronics to ask questions on Electronics in Fusion 360 as well as share helpful tips. Register free to Join us live!
Thursday, October 27, 2022, 10 am PDT
We have informative & fun Halloween-themed Dynamo Office Hours "Parametric Pumpkins".
Are you all about the Spooky Season?
Do you like Pumpkins?
Want to flex your parametric muscles?
Then look no further than our session on the "Parametric Pumpkin", where we deep dive into carving out pumpkins in Dynamo with special guest Zach Kron, as we go on an eerie journey into realms unknown. Learn how to manipulate geometry for pumpkintastic results, exploring how to build a graph in a flexible way so that you can generate hundreds if not thousands of spooky options.
Register free to Join us live!
Bwahaha