Thanks to the guys in Volterra, currently enjoying the reality capture workshop. There are several of us out here, wishing we could have joined and appreciating the posts you are sharing.
I was there in 2018 and particularly interested in the construction details that had evolved in the local vernacular. Chimneys sprout across the rooftops, some for fireplaces some for woodstoves.
Compared to England there is great concern to protect the opening from rainfall. Is this just a quirk? Perhaps it reflects the number of days in the year when fires actually burn. A strong upward draft will deflect rain as well as any physical barrier, I suspect.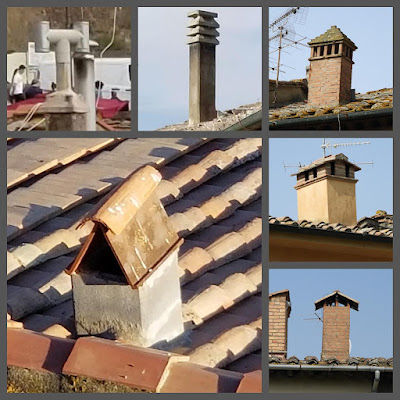 Four windows from Volterra, snapped in 2018.
The double arch motif is common in Tuscany and often enough there are rectangular wooden frames "hiding" behind the stone outer layer.
That tradition goes back to the medieval era and often enough uses pointed arches. The heavy rusticated surrounds are firmly post Renaissance though. Shades of the…