A snapshot from my pocket notebook from a time when I was struggling with the physical demands of manual labour on building sites, but determined to reject the world of corporate architecture that I had glimpsed as an undergraduate.
Difficult to convey that journey of early manhood. Growing our hair long was such a big deal in the late 60s. Political awareness seemed so black and white. Testosterone perhaps 🙄
Thankfully I was lured into a world of practical skills, learning to respect the capabilities of those who had done less well than me at school but learned to handle harsh physical realities.
I'm so glad that I didn't just follow the tram lines that would have kept me in architect's offices for the rest of my life. No disrespect for those who took that route, but I wasn't ready for it.
Had to pursue my "hero's journey" first, and it was a blast for sure.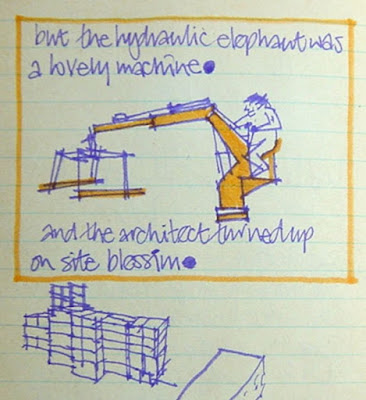 The year was 1988. We had moved into a new house, with a guest wing that would allow my mum and dad to come on…