Wiggly roofs in Cross Street,
Basingstoke. Picturesque collection of chimneys, long extinct.
This town is a glorious hodge-podge of quaint old town
and bold modern interventions. A parade of late twentieth century styles, each
one more ridiculous than the last.
It sounds awful, but I love it: social history laid
bare for all to read. And it's alive. Forget the architectural purists. There's
something for everyone here.
Heritage to Kitsch to Brutalism. Cycle paths, green
links & ring-road. Tacky social housing, Edwardian terraces, slick yuppie
flats.
"Warts and all" works for me. Why not?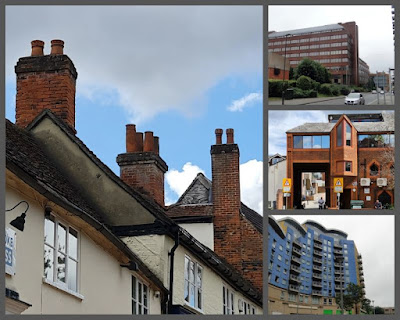 Hampshire seems to have an endless
supply of country pubs, often timber framed and sometimes thatched. We had a
celebratory meal in this one, which doesn't look so old from the outside.
Inside the rough hewn oak beams and studs hint at
pre-industrial times. The way the walls have been opened up is modern in
spirit. The old country inns would have had separate rooms like any…