It has been possible for as long I've used Revit to import 3D-DWGs. Who haven't wondered why all of my DWG geometry is visible though my section has like 5 mm far clip offset?? (Hint: All elements in Revit needs a category..)
And if that didn't work maybe we tried exporting to SAT and import it in Revit. Pretty decent, but sometimes the geometry went curly when the coordinates were to high numbered.
I've also found myself using the 3D-DWG as reference and try to remodel the entire thing in Revit. But this is at best time consuming, and at worst plain wrong.
As stated, there are many ways to import 3D-DWGs into Revit, but I have yet to find one that really suit my needs.
Then I got inspired when I saw the new features in Dynamo 0.9.1 here. a little down on the page you can read about dwg import possibilities in 0.9.1. Alas, it is only available in Dynamo studio, which I find a little worrisome. Hopefully it will be integrated in Dynamo for Revit sooner, rather than later because this is miiiiles ahead of native Revit import of DWGs. Read all about the new functionality here.
Soooo, a test were needed.
The original DWG: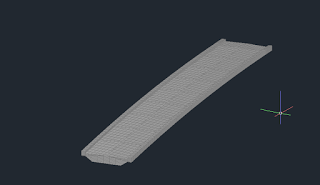 Just a test file, but it is a bridge model consisting of surfaces made by software called Novapoint Bridge…