Sometimes in the Revit IFC Export Dialog, some wires get crossed and it may be difficult to restore the standard mapping. Here is how to do it reliably:
Go to Revit – Export – Options – IFC Options.
Get the name of the mapping file from the title bar of the window.
Find that file on disk, and delete or rename the file.
Press the "Standard" button in the dialog.
Press "OK" in the dialog, if the default is OK.
via Angel Velez here
I have tested and this process works in both the Import and Export IFC mapping dialogs in Revit.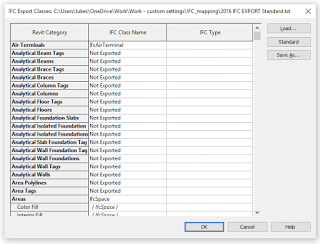 Main page:
IFC for Revit / Discussion / General Discussion:BUG in 16.4.0


Read more