Civil Engineers are problem solvers.  Your work ranges from small, less complex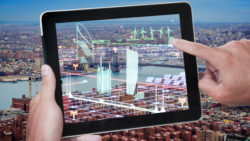 infrastructure projects to projects that significantly impact our transportation systems, drinking water and energy systems, sea ports and airports, and the infrastructure for a cleaner environment.
To deliver your infrastructure projects more effectively, you need access to the right tools.  The Autodesk AEC Collection gives you the very best software tools to enable you to plan, design and engineer more scalable and sustainable civil infrastructure.
Here're the top reasons to choose the AEC Collection:
Get the essential design software for your civil infrastructure projects. As your business and projects evolve, you need to have tools that not only meet your current needs but tools that help you be more innovative and competitive. With the AEC Collection, you get access to the design and engineering tools you need now and in the future.
Get interoperable tools for both CAD- and BIM-based…