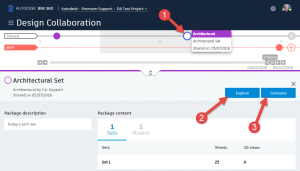 Check out this page from Autodesk Knowledge base. Notice how it describes three different ways of linking for BIM 360 Design projects that involve Revit worksharing:
Method 1 – Controlled Sharing – 'Consume' Published Models from Packages
Method 2 – Controlled Sharing – Link from the Shared Folder
Method 3 – Live Linking
Each method requires fundamentally different sharing standards, and varying degrees of prior BIM 360 permissions and team setup.
Notice that Method 1 includes the concept of 'packages'. The overall intention here is to try to emulate some existing workflows. While BIM files continuously change during project development, in traditional workflows a 'team' only interacts with a snapshot of the available BIM data from other teams (a package).
At this point, it is key to keep in mind that these different methods exist, and if you are a BIM Manager on a BIM 360 Design with Revit project, you will need to discuss and agree on the linking Method for managing…