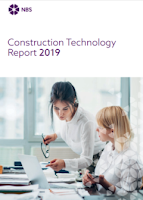 We recently published our NBS Construction Technology Report. This was a survey of over 500 construction professionals, mainly based in the UK. This was a healthy sample size based on the number of construction professionals in the UK.
The report is a mixture of an analysis of the survey and also some opinion pieces from small, medium and large sized organisations that are pushing the boundaries with technology in the industry. We also received a thought-leadership piece from Microsoft (rather than single out one of the construction tech firms that more traditionally lead the design tech or construction tech spaces).
Some snippets below in this blog post. Link to download the full report for free at the bottom of the post.
One final point to address, we know that technology is not the only of topic of importance in the industry. We have previously published surveys into sustainability, contracts+law, specification and BIM – but we thought that technology is such a game changer, that…
Read more