Yesterday I received notification from Autodesk that my Revit 2020 download was available, so I thought I'd get in ahead of the rush – this was more out of curiosity than a desire to start using the new features in the software.  Here are my experiences with the download and install process:
Download
The first thing I noticed is that the download size has doubled since last year.
15.8 Gb 
What on earth could they have put in there, I wondered?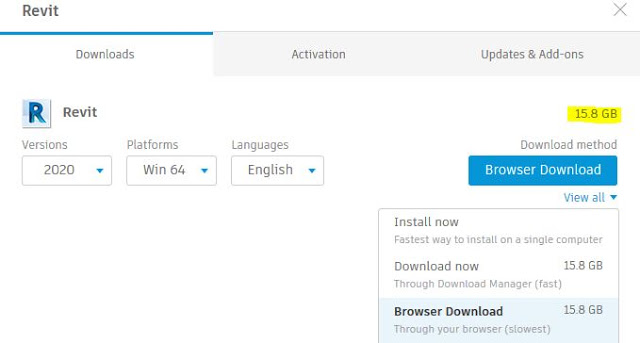 Luckily I remembered from a previous experience that the 'Install Now' option is most definitely NOT the fastest way to download & install the software.  Avoid that option whatever you do.
The download files have been split into 7 parts (each 2+Gb) – there were only 3 for v2019.  This download took several hours (not sure if it is the slow Internet in Australia, or I didn't manage to beat the rush?).  Either way it took a huge chunk of my hard drive

Install – File Extraction
The first part of the install process is to extract the…