Yesterday the registration for the Forge DevCon and Autodesk University 2019 in Las Vegas opened. It's also the time speakers can find out when their classes our scheduled: it's always with a little apprehension that I find myself checking the schedule. I'm pretty happy with the slots I have, this year, though: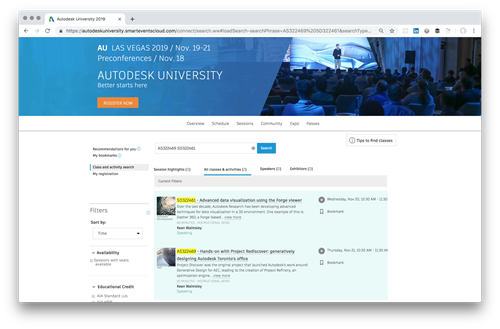 As you can see my sessions are both at 10:30am, one on Wednesday November 20th and the other on Thursday November 21st. Which means I should largely be over my jetlag by the time I have to present, which is always good. Although I may well be Vegas-lagged by then, of course. 🙂
This year the event will be a little bittersweet for many, as it's the last one being held in Las Vegas. I've been to so many Autodesk events in Las Vegas, over the years, that I'm very happy for the change. That said, a small part of me will miss it.
I do think this is going to be a fun event for me, at least: we've been making some pretty significant changes to Dasher 360 over the…