Vertex has sponsored this post.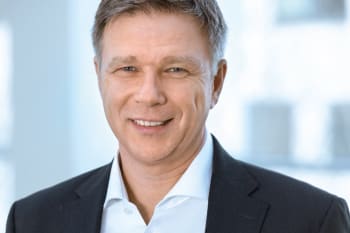 Viktor Várkonyi, Executive Board Member and Chief Division Officer Planning & Design Division of the Nemetschek Group. (Picture courtesy of Nemetschek)

We find Viktor Várkonyi on a Friday evening in his living room, an unlikely place from which to lead the largest division in the Nemetschek Group, a company that makes over a half billion dollars a year, but that is the world we find ourselves in— the world of the pandemic. The home is the office. The interview is via videoconference.
We apologize for the hour. It is 6 pm in Budapest. Time for the weekend. We imagine the blond and tan Várkonyi a surfer riding the wind on his weekends. He admits that his passion is indeed sailing and windsurfing—and a little biking. "I'm no pro," he said, "but it´s a great exercise."
We have some questions, some of them related to his path to ascension at Nemetschek. Some of them … not so much. Várkonyi, who smiles, doesn't seem to mind.
For example, what would cause a degreed electrical engineer to get into architectural software—and stay there? Várkonyi has a master's degree in electrical engineering from Budapest University of Technology and Economics.
Starting his career as a software developer, Várkonyi became the director of (software) engineering at Graphisoft in less than 10 years, and by the beginning of 2009, he became the CEO of Graphisoft. The Nemetschek Group, the German company founded by…