Yesterday evening was the Q&A for my Autodesk University 2020 class, Lessons from Project Dasher: Building a Digital Twin Using Forge.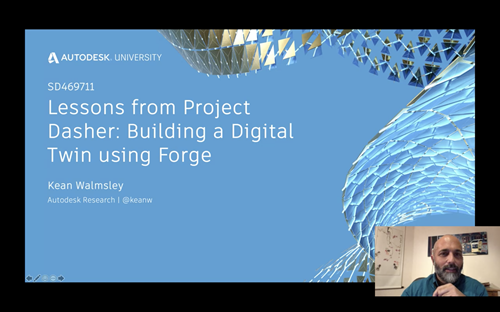 People registered for AU you can use the above link to access the recording for the next 30 days. Just click on the Join Now button:

I really wasn't sure what to expect from this session – having a full hour dedicated to questions! – but I think it went OK.
There were a few speedbumps: the assigned moderator for my class was busy elsewhere and so only arrived partway through. It's AU week, so I understood, and did my best to muddle through managing the questions. I went sometime before realising that unless I ignored – or changed the priority of the questions – they stayed at the top of the list. Once I understood this I managed to clear out the older comments – that I'd absolutely asked for, as at times I wasn't sure things were working properly – from the 180+ questions in the list.
There were also some audio quirks – perhaps…