I've had two or three sessions with customers in recent weeks who want a deeper dive into exactly what parameters the NBS Plug-in uses to connect objects to specification clauses. This blog post summarises this. There is also a support article on our Chorus forums about this:
https://support.thenbs.com/support/solutions/articles/7000043835-parameters-inserted-into-objects-after-association
The screenshot below shows three instances of the same type of washbasin in Revit. The schedule shows the NBS parameters that are inserted into an object when linked to NBS Chorus. These will be inserted into any object – the object could be from National BIM Library or an object a practice has created or an 'out of the box' Revit object – it doesn't matter.
Click the screenshots below to see larger views.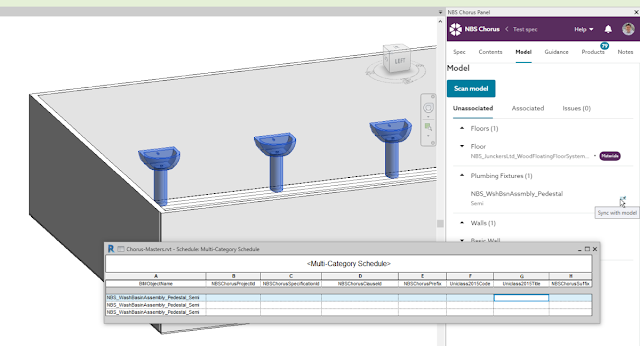 A schedule showing the parameters that will be used
The screenshot below shows how an association can be made between the Revit object and the NBS Chorus clause…